RockPaint
by eli_sherer
RockPaint is in it's early stages... only beta version is released.
Currently only for the H300
---
Screen shot: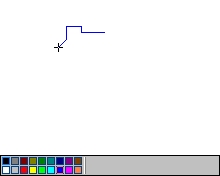 Instructions:
PLAY - Open up Menu
ARROWS - Move cursor (in any way possible)
NAVI - choose option or draw a pixel
REC - move color right
A-B - move color left
STOP - Quits or Cancels
---
Download:
instruction for making rockpaint a BMP viewer
add to "viewers.config" in the ".rockbox" directory the line:
bmp,rocks/rockpaint,00 FF 89 89 76 00
or download it ready from here
---
History:
v0.45
now can load any type of bitmap (all BPPs)
*bug: menu get distorted when a big font is used
v0.42
now can load bitmaps from the rockbox explorer
v0.405
menu fixes
(sorry for the quick release of 0.4)
v0.4
bitmap code have been written (and being used in the startup screen)
a minor menu adjustments
v0.33
bug fixes
v0.32
new Brush Size Menu
new Brush Speed Menu
v0.31
PLAY button opens up a menu

v0.3
cursor is now 4 px instead of 8 px
cursor now moves as long as you push the button
palette cursor- same effect.

v0.2
cursor is now a cross
removed side toolbar (for future menu purposes opened with PLAY button)

v0.1
works!